Thank you Bad Boy Burrito for supporting the Cancer Foundation of the Florida Keys (CFFK).
"What We Raise Stays," and this delicious fundraiser will help us to continue our work in the community.
From Key West to Key Largo (Monroe County) the CFFK primarily provides assistance to cancer patients undergoing treatment with living expenses:
What makes us different from other non-profits that provide assistance for those in need? Though the CFFK guidelines are specific that the CFFK helps those with Cancer - We are not government funded and funds are not strictly allocated so we have been able to assist those with Cancer who have no other form of financial assistance.
We have helped Cancer patients leave Key West to be with family by providing financial assistance for transportation

We have helped Cancer patients by providing burial assistance.
The CFFK is fortunate that how we help is not limited by restrictions, and our giving is not based on allotments given by the government at a specific time of year.
We owe this to the Keys community that continuously give to our cause because of the work we do.
Come to one of our monthly meetings at Noon on the 2nd Wednesday of the month

@ First State Bank (Simonton Street)
Volunteers and Board Members are welcome to join.
CFFK are a group of board volunteers, leaders in the community who are seen throughout the community serving multiple causes that they support.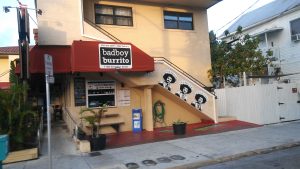 BUY A BURRITO AT BAD BOY BURRITO, SUNDAY DECEMBER 16, 2018
Thank you Bad Boy Burrito for giving back to the community this holiday season!
SUNDAY, December 16th, Cancer Foundation of the Florida Keys will receive 20% of our overall sales.
Please come and support them from 11am-10pm!
fhfhf